Since the vital role a truck driver plays happens behind the scenes, it's easy for many to overlook how critical they are to the American way of life. At Aim, however, drivers are anything but overlooked. They, along with our diesel mechanics, are front and center in all that we do.
Celebrating National Truck Driver Appreciation Week (NTDAW) is one of many ways Aim shows appreciation for our drivers. For those unfamiliar, this weeklong event calls upon Americans to show their appreciation for the country's 3.6 million professional truck drivers and the fundamental role they carry out with pride and humility.


Aim created its own Driver Appreciation Week logo to make this year's celebration extra special and unique to Aim's drivers.
While Aim doesn't need a special reminder of how crucial our truck drivers are for us to be able to provide best-in-class dedicated fleet services through our Aim Integrated Logistics division, Aim never misses seizing NTDAW to give our professional drivers an extra helping of appreciation.
"At the heart of Aim Integrated Logistics' success lies the dedicated, hardworking men and women who make up our elite driving force," said David Gurska, COO and Executive Vice President, Aim Integrated Logistics. "Without them, our journey would come to a halt, reminding us that their role isn't just to transport cargo, but to carry the very essence of our company's mission forward, and it's our honor to show our gratitude to them all year long, especially during Driver Appreciation Week."
Every Aim driver received a gift box containing a heavy-duty travel mug and spacious cooler bag emblazoned with Aim's custom Driver Appreciation Week logo as well as a thank you card signed by Aim's executive and leadership teams. This year's Driver Appreciation Week theme was superheroes, underscoring how important they are to Aim and the nation.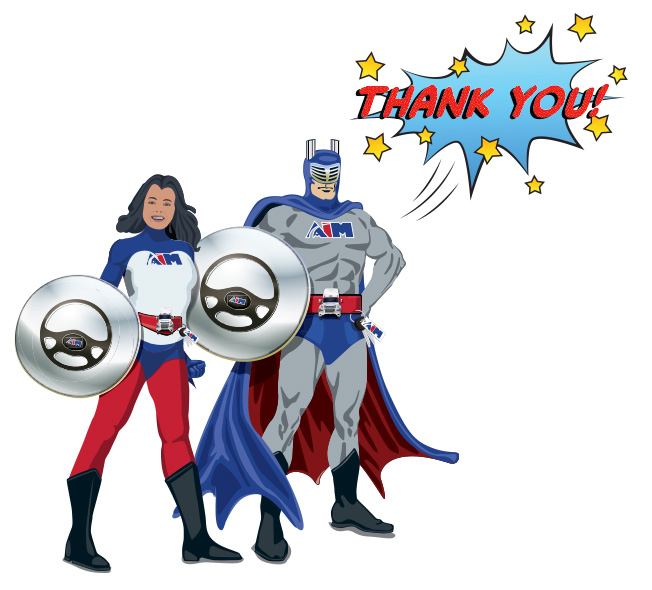 Aim included a superhero theme to this year's Driver Appreciation Week celebration to emphasize how vital truck drivers are to the company and the American way of life.
Then from Sept. 11 – 15, a lineup of hosts from Aim's leadership team stepped in front of the camera to share across social media their gratitude for Aim's truck drivers and raffle off versatile and durable Blackstone Grills to Aim drivers.
The lucky drivers who took home a Blackstone Grill were:
Joshua Fry
Brian Davis
Major Evans
Edward Brown
Timothy Fleishman
Donald Detty
Thomas Bonner
James Hamilton

Watch Aim Co-President Scott Fleming close out Aim's Driver Appreciation Week celebration. Head over to our YouTube page for the full playlist of videos.
Aim is proud to continue adding good-paying driving jobs with great benefits to several parts of the country. Aim works with a large variety of customers all over the country, so there's always something available for everyone. Drivers in need of a job can view opportunities at jobsataim.com, or reach out to our recruiting department directly at 330-318-4260.
If you're struggling to hire drivers for your business, a dedicated fleet through Aim Integrated Logistics is your all-in-one answer. Providing more than just trucks and drivers, our experts engineer a transportation solution to complement your business that enhance and optimize your shipping operation while reducing the time, money and resources spent on your fleet. To learn more about how an Aim dedicated fleet (or any of our other transportation solutions such as full-service leasing or comprehensive maintenance programs), reach out to info@aimntls.com.