Aim Transportation Solutions launched a game-changing Road Rescue feature to its smartphone app, Aim Navigator. In fact, this new Road Rescue function—which streamlines the way Aim customer drivers request roadside service—is so game-changing that it caught the eye of the industry-renowned Commercial Carrier Journal, which recently profiled this Aim Navigator add-on.
One doesn't often think of a family-owned and -operated company turning heads when it comes to technological innovations, but for Aim, it's business as usual. For decades and running, Aim's Chief Information Officer and Vice President of Information Technology, John Reed, and the technology department he leads have been dreaming up revolutionary ideas and turning them into real-world applications, adding value you won't find anywhere else but Aim.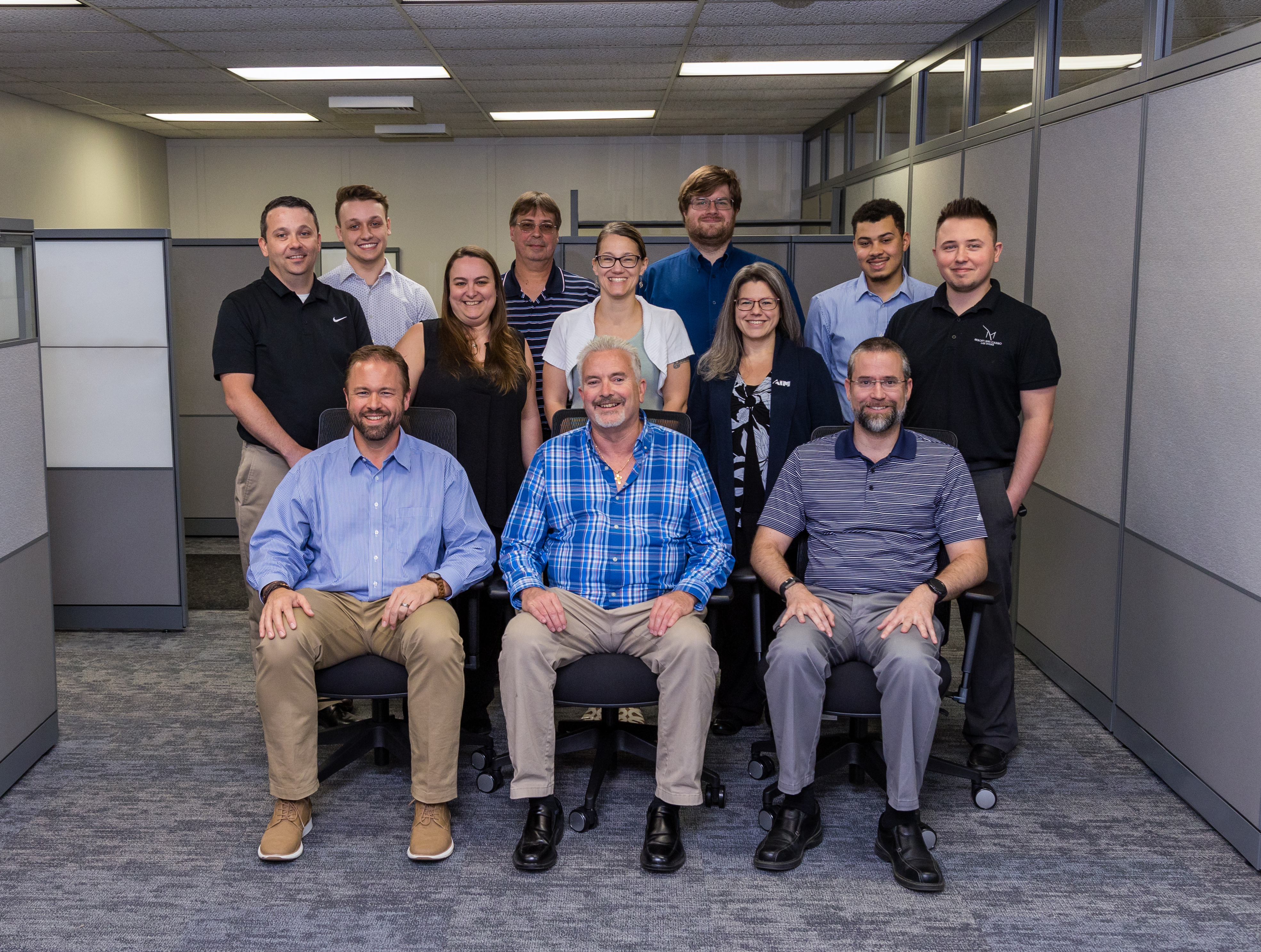 John Reed has assembled an extraordinary team of experts to support and develop technologies that support Aim and its valued customers. John, front, center, is pictured with several members of Aim's technology team, including Dan Kellgren, VP of Software Development, to his left and Jeff Schuyler, VP of Technology, to his right. Next row back, pictured l-r, are Gabe Hodges, .NET Developer II; Karrie Michael, Asset Software Development Support; Heather Alvarez, Technical Support; Mary Zigarevich, Quality Assurance Manager; and Zachary Harding, Technical Support. Third row (l-r): Quintin Stearns, .NET Developer I; Barry Lance, Network Engineer; Jon Brown, Progress Developer II; and Alexander Smith, Mobile Applications Engineer.
Aim Navigator's Road Rescue feature is one such application. One of the creative sparks for this mobile app add-on came from recognizing the rapidly diversifying transportation workforce, specifically drivers. 
For one, John and Aim's leadership could see drivers were getting younger. They immediately understood that with that with that shift comes a generational preference to communicate via texting rather than making a phone call. So instead of placing a call, Aim customer drivers now have the ability to text with Aim's Road Rescue department, one of the major upsides to Aim Navigator's Road Rescue feature.
"We used to have stickers on our visors, and you'd flip it down and there'd be an 800 number," recalled Reed. "That was the old days."
Instead, Aim truck visors now have a QR code a driver can scan that will direct them to the appropriate app store (iOS or Android) to download Aim Navigator. Once installed, drivers will no longer have to call in and navigate a phone tree. Instead, Road Rescue app users are immediately placed in the Road Rescue queue.
So far, the average response time for those users has been a blazing 120 seconds or less.
"The younger drivers, they don't want to talk to anybody, or they want to talk as little as possible," said Aim's Vice President of Software Development, Dan Kellgren. "They want to do it all on their phone."
"The Road Rescue feature actually opens up a texting conversation automatically," Kellgren continued. "It sends our people a link to our internal portal, and it has a texting interface that we use, and we can have text conversations. So, right at their keyboards on the web through our portal, they're texting out to the driver on their phones. A lot of times they don't even have to talk to the drivers. They can just say, 'Hey, I see you got a blown front left tire.'"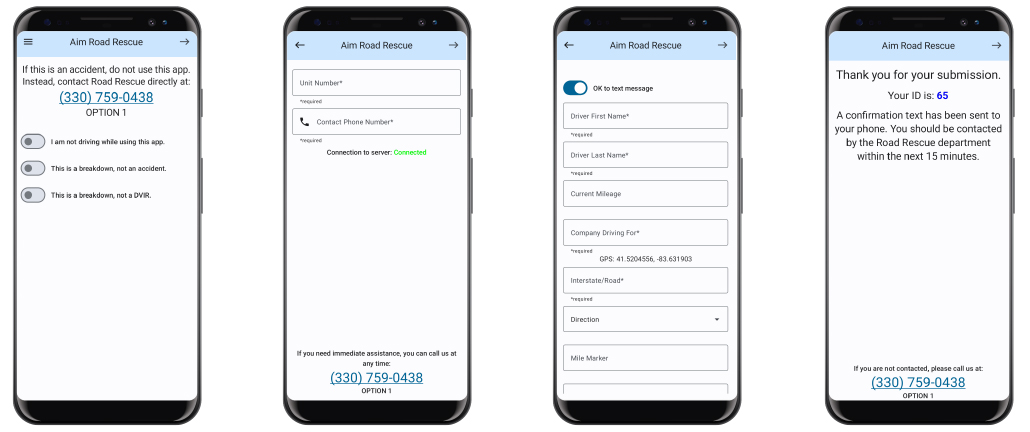 Using the Aim Navigator app, a driver can request Aim's Road Rescue service quickly and easily. After the app has captured the necessary information and the request has been submitted, the driver will soon enter a text conversation with an Aim Road Rescue specialist.
Perhaps the most revolutionary feature of Aim Navigator's Road Rescue tool is in its ability to translate languages in real time. Not only did John and Aim's leadership recognize the shift in age among drivers, but they also recognized that America's driver workforce is becoming increasingly more culturally diverse, which includes many non-English speaking individuals. John knew being able to communicate with these non-English speaking individuals efficiently and accurately would be vital to upholding Aim's unparalleled customer service.
A critical part of solving this communication barrier equation is the breakdown management software Aim's Road Rescue team uses to manage roadside events. It's called RescuePro and was developed in-house by John Reed and his team five years ago.
All communications, via phone or through the app, route through RescuePro, which was designed to interface with Google Translate for non-English speaking customers.
"The problem that we've had to solve is there's more and more communication barriers out there," Reed said, speaking of incidents in Chicago where there's a large Serbian truck driver population, "and when one of them has a breakdown we were struggling to get them the help they needed, and we often weren't understanding the details of the problem. Because of this, Serbian is the next language that we're targeting for our next roll out. With the translation portion, that issue is a thing of the past and we can get our Serbian friends back on the road quicker."
The way it works is quite ingenious.
"For example, for our Spanish speaking drivers, if their phone is in Spanish mode, they can actually communicate with our Road Rescue team in their native language. Google is translating it back to English for our people. They're typing in English, it's translating it back to Spanish for the driver," Kellgren said. "We can do Russian, French, Serbian, a couple other languages that we're starting to add on."
Aim Transportation Solutions has a fleet of roughly 11,000 vehicles under its award-winning care. And whether it's a blown tire, dead battery or something more severe, breakdowns are an unfortunate inevitability of this business—especially when there's a severe weather event pummeling a huge portion of the U.S.
RescuePro is key to managing all inbound and outbound communication for Aim's Road Rescue team, which, according to Reed, helps keep everything organized and expedites solutions—especially during severe weather-related events when roadside service requests rise exponentially.
"When there's an ice storm across the country, for example, our Road Rescue people are going nuts, and this tool keeps everything prioritized, but now, thanks to the Road Rescue feature in Aim Navigator, it also allows them to give updates without having to get a call, call the [service] vendor, have the vendor call us back, then call the driver and say, 'The vendor now says 45 minutes.'"
"So, let's say the vendor's not there in 45 minutes. So, then they make a call, 'Where's the vendor at?' All of this back and forth to the driver is now gone. Now it's just an update on your app," Reed said. "You'll see that it was 45 minutes, and just like a flight delay, that's what they tell you at first. And then you find out it's not leaving for another hour. You would get all those things right through the app or right through the text. It's really been a big home run for us."
Not only does RescuePro function as the primary communication and event management tool for Aim's Road Rescue department, but it's also the department's information hub. Because the software was designed to log every interaction related to a roadside event, it ensures nothing falls through cracks, especially during a shift change.
"All of our customers really love the documentation they get because there's always questions," said Reed. "Breakdowns inevitably have questions, and here's basically a transcript of everything that happened."
As an information hub, RescuePro benefits directly from Aim Navigator. When drivers contact Road Rescue through the mobile app, RescuePro has been designed to automatically collect the information the driver inputs, eliminating input errors from miscommunication, bad cell reception and, of course, language barriers.
"The goal is to give them as many tools as possible," Reed said. "As the driver workforce gets younger, they're going to want more of this. AAA (American Automobile Association) is a great example. If you use AAA, and you break down on the road, you can call or you can use the app."
On top of Aim Navigator's Road Rescue feature, John Reed and his team have packed a lot into the smartphone app, which includes:
mDVIR - The most convenient way for drivers and customers to complete, submit, store and retrieve their Driver Vehicle Inspection Reports
Where's My Load? – Providing real-time status updates on Aim Integrated Logistics-managed deliveries, including ETAs, current locations and more
Integrated Dashboard – Giving Aim Integrated Logistics customers a visual snapshot of three vital fleet data points:

Fuel Economy/MPG
Cost Per Stop
Cost Per Mile
The Aim Navigator app is indicative of Aim's devotion to being a proactive company rather than a reactive company, anticipating industry trends and the needs of its valued customers. Aim has relied heavily on homegrown technological innovations to stay one step ahead of change, and it's been doing so since the early years of the company; more specifically, when John Reed came on board in 1993.
In those three decades since, Reed has assembled an unparalleled technology department—decked out with programmers, tech support specialists, quality assurance professionals and cyber security experts—that has unleashed a whirlwind of innovation and envelope-pushing industry trends (like the way-ahead-of-its-time Electronic Driver Vehicle Condition Report).
John's forward-thinking and remarkable technological prowess, along with ownership's belief and trust in him, have not only made game-changing technologies like Aim Navigator possible, but it has played a crucial role in Aim's growth and continued success.